Brewing Up Memories: Celebrating 5 Years of Lazy Dog Beer Club
Our story about Lazy Dog Beer Club starts with a simple hangout between Chris Simms and Gabe Caliendo, two of our founders. They were enjoying a cold brew and chatting away. These two beer enthusiasts shared a deep-rooted passion for craft beer, and as they sat together, savoring one of Gabe's delicious home brews, they kicked off discussions about how craft beer would play a role in our restaurant concept.
Little did they know that their initial discussion about beer would pave the way for something extraordinary. As the craft beer revolution picked up, they found themselves at the forefront of a thrilling new trend. Craft beer was everywhere, and everyone wanted it. To meet this demand, we teamed up with small and mid-size breweries to brew our unique house beers, dabbled in some cool collaborations, and even entered these brews into competitions over the years.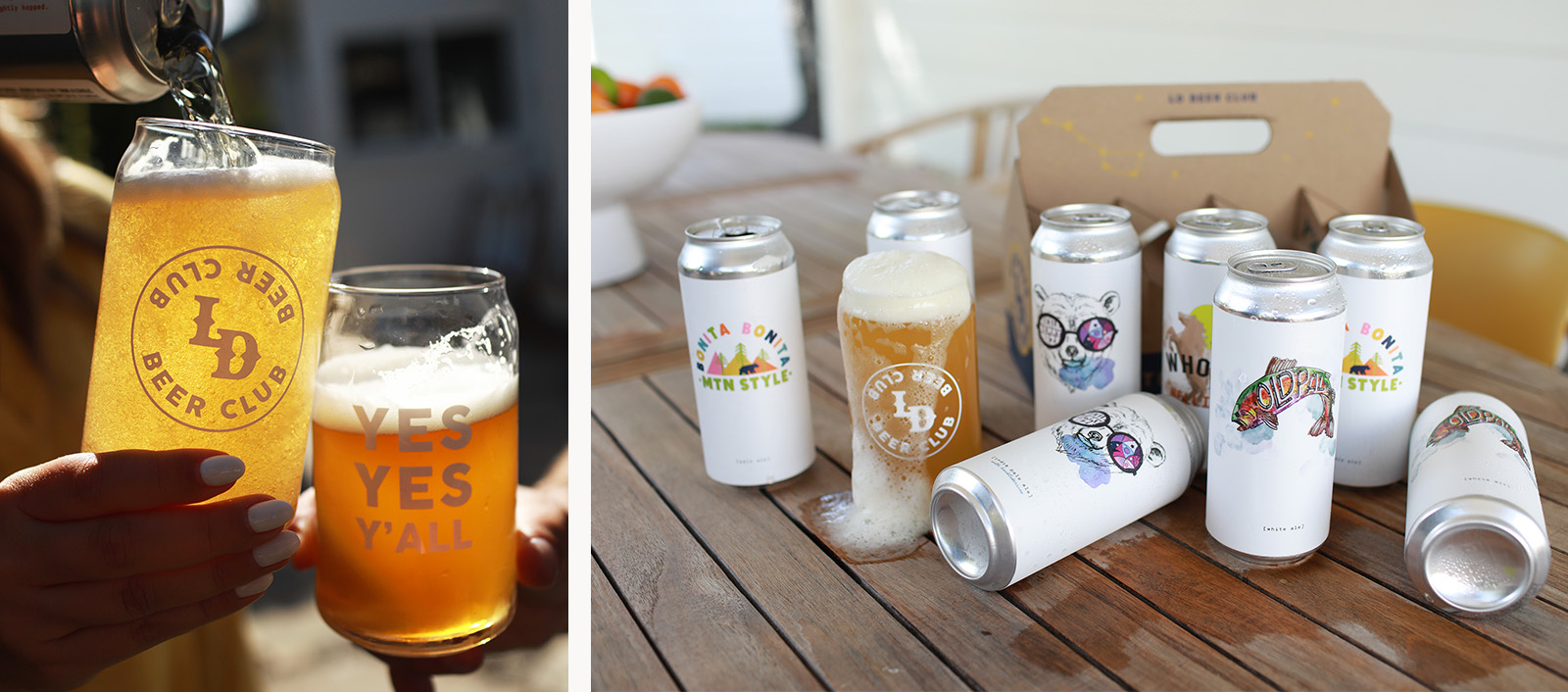 While we were connecting with beer lovers in the restaurant, we wanted to find new ways to extend our passion within the craft beer world. In 2018, the idea of Lazy Dog Beer Club was born. It was a way to give our guests the opportunity to taste and bring home unique styles from small breweries across the country. We wanted to do things differently from other beer clubs out there by making it unique through storytelling with themed releases, as well as by offering unique recipes from awesome partners. From the beer styles to the themed names, artwork and packaging, it's all part of a story that makes our Beer Club one-of-a-kind. Plus, there are some awesome in-restaurant perks, too. Here's a snapshot of our story and relentless pursuit of doing rad things in the ever-evolving world of craft beer: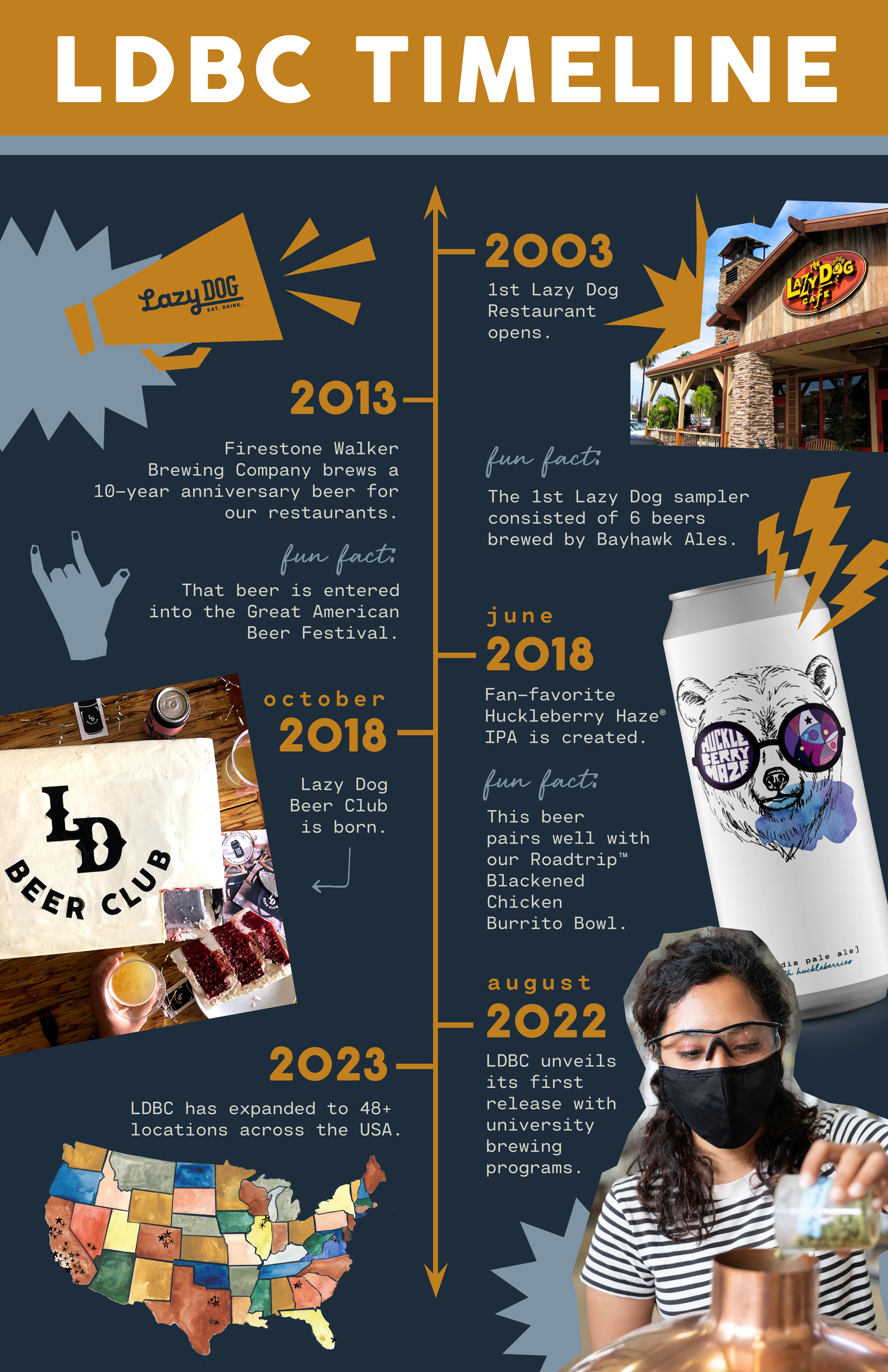 Now we're in our 5th year of Lazy Dog Beer Club, and it's time to celebrate this momentous occasion. We're kicking things off with a giveaway this October! Five lucky members of our Beer Club will have the chance to win 5 quarters of Beer Club membership.* Don't miss out! Make sure you're a part of the club by October 31 for your shot at this fantastic prize. We're also cranking up the music and celebrating five awesome years of unique beers from around the country! Check out our Spotify playlist, which takes you on a journey through the past half-decade and the themes of our beer kits. With 60 songs representing our many themed kits, it's the perfect soundtrack to accompany your next beer-tasting session.
SPOTIFY PLAYLIST
We've made some amazing brewery friends over the years, and we wouldn't be able to give the gift of great beer to our members without them. If you're in the mood for a brew-hopping journey, take a peek at our map, which highlights all the incredible breweries we've worked with in our past releases. Be sure to stop by the next time you take a trip and don't forget to grab a bite at one of our restaurants in between!
BREWERY MAP
We're not done yet. Hold onto your beer glasses because this November, get ready for the grand reveal of our "Battle of the Brews" release, where we'll be raising a toast to all the amazing beers we've brought to you over the past five years. We're bringing back four of your all-time favorites voted on by our members! It's going to be a brew-tiful celebration you won't want to miss.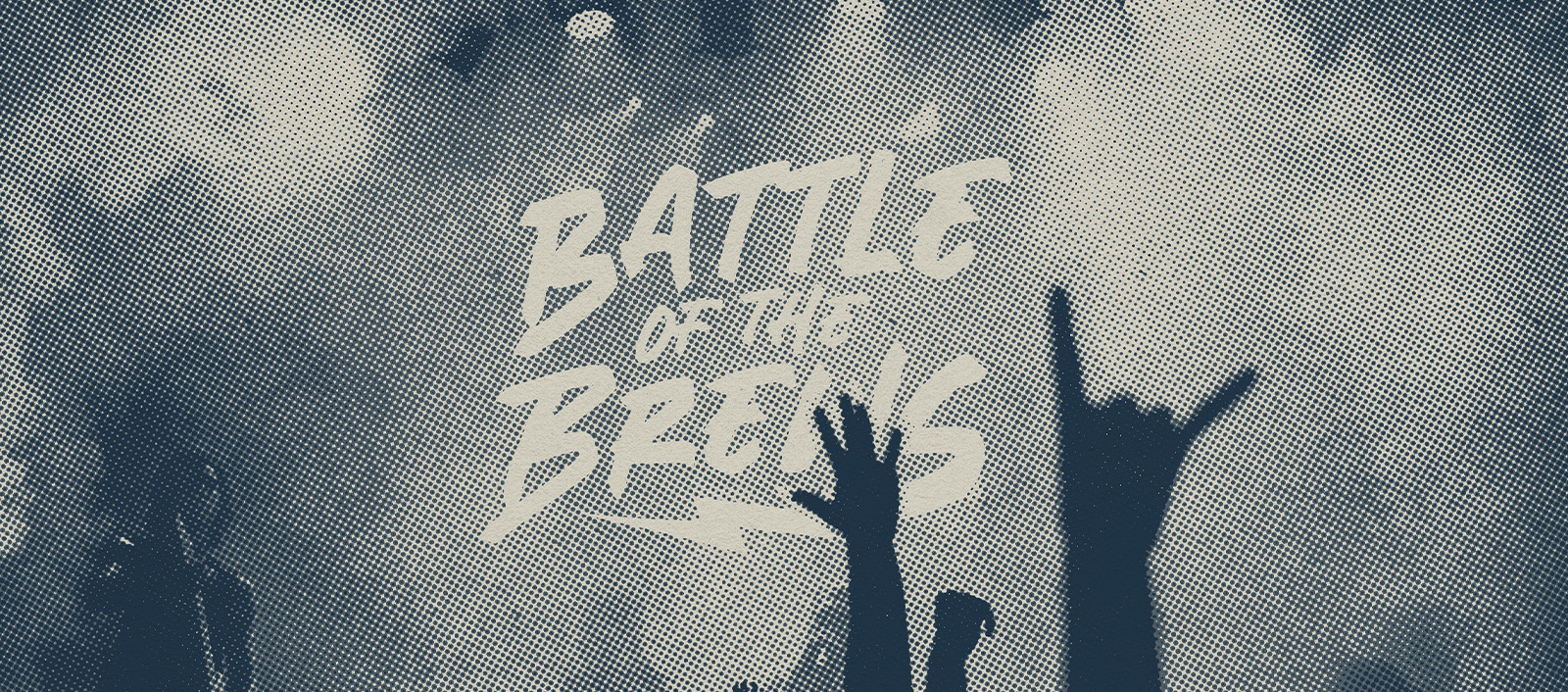 So, join us as we toast to five incredible years of craft beer, friendship and unforgettable memories. Stay tuned for additional updates by following @LazyDogRestaurants on Instagram or joining Lazy Dog Beer Club!
____________________________________________________________________________________________________________________________________________________________
*21+ to enter. Must submit alt entry or have an active quarterly or annual LDBC membership by 10/31/23 to be eligible. One membership/entry per guest. Winners will be chosen on 11/2/23. For official rules and alt entry please visit: http://bit.ly/45H5LIn