Cheers to Life's Special Moments: Lazy Dog's Gift Guide for Moms, Dads and Grads!
May 8, 2023
As celebration season approaches, it's time to start thinking about how to make special moments like Mother's Day, Father's Day and graduations unforgettable for your loved ones. The following gift guide takes the pressure off finding the perfect gift, and offers several options like exciting happenings, specials, merchandise and more. With so many possibilities, you're sure to find something that will make your friends and family feel special and appreciated.
For Mom
What better way to show your love for Mom than treating her to something sweet? We've got you covered with our mouthwatering Butter Cake served with minted strawberry compote and vanilla bean ice cream, making it the perfect dessert to indulge in with Mom. Plus, when you order one, between May 12 and May 14, you'll be doing good for others, too. We've partnered with Baby2Baby again this year and are supporting their mission to provide diapers, clothing and the basic essentials for families in need across the United States. For every Butter Cake purchased between May 12-14, we will donate $1 back to this great cause.

For Dad
If your dad loves bacon, then you must stop by over Father's Day Weekend. For every Bacon Candy ordered from June 16 to 18, we will donate $1 to Baby2Baby. Bacon Candy is a fan-favorite starter featuring bacon with brown sugar, crushed red pepper and pepper - the perfect combination of sweet and savory. Want more bacon? You gotta try our BBQ Ranch Bacon Burger or our BBQ Bison Meatloaf topped with smoked bacon.
We have committed to donating at least $20,000 to Baby2Baby over Mother's Day and Father's Day weekends, which will help the organization provide over 200,000 diapers to families in need across the country. You can feel good knowing that your purchase is making a difference!

For the Grad
We're making it easy to celebrate that special grad with a Lazy Dog gift card promo. From May 8 to June 18, for every $50 gift card purchased, you'll receive a $10 promotional card to use later.** That means the grad in your life will be able to celebrate their achievements with mouthwatering food and drinks and you'll receive a gift too.

For the Beer Lover
No matter who the beer enthusiast is - Mom, Dad, or the grad- we can help them elevate their beer game to the next level. Check out the below gifts:
Give the gift of Lazy Dog Beer Club, a quarterly membership subscription created by beer lovers, for beer lovers. As a member, you get quarterly eight packs of beer with fun and creative cans, carriers and zines reflecting themes like "Froth City Fun Park," an exciting beer theme park or "Deep Sea Society," which was inspired by the mysteries and creatures of the deep ocean. If you sign up now, you'll get $39 to spend at Lazy Dog! Also, if you join before June 30, 2023, you'll be able to enjoy upcoming themes like "Road Warriors" (releases in August), inspired by an epic off-grid car race, and "Battle of the Brews" (releases in November), an electrifying beer showdown. Outside of trying a variety of craft beers from brewers around the country every quarter, members get sweet restaurant perks. There's much to enjoy like draft beer upgrades and draft samplers in restaurant, 10% off takeout orders, beer-to-go discounts, priority seating when there's a wait at the restaurant, merchandise and more.

House Beer 4-Packs
If you want to bring a taste of Lazy Dog home with you after celebrating your loved ones, don't forget about our house beer 4-packs. We've got a great selection of brews from our Huckleberry Haze IPA with refreshing notes of huckleberry, tropical fruit, citrus, and hints of strawberry to our refreshing Ankle Buster Blonde. Right now, you can grab two house beer 4-packs for only $25!

For Just About Anyone
Looking for some Lazy Dog swag to gift to another or maybe even add to your collection? Our online shop features a wide range of items that are sure to make any Lazy Dog fan smile, whether they're a longtime fan or new to the pack. We've got everything from super-soft unisex shirts that are perfect for lounging around in, house brew merch including koozies and glasses that will show off your love for craft beer, to Lazy Dog Beer Club surf caps that will keep you stylish and cool all summer long.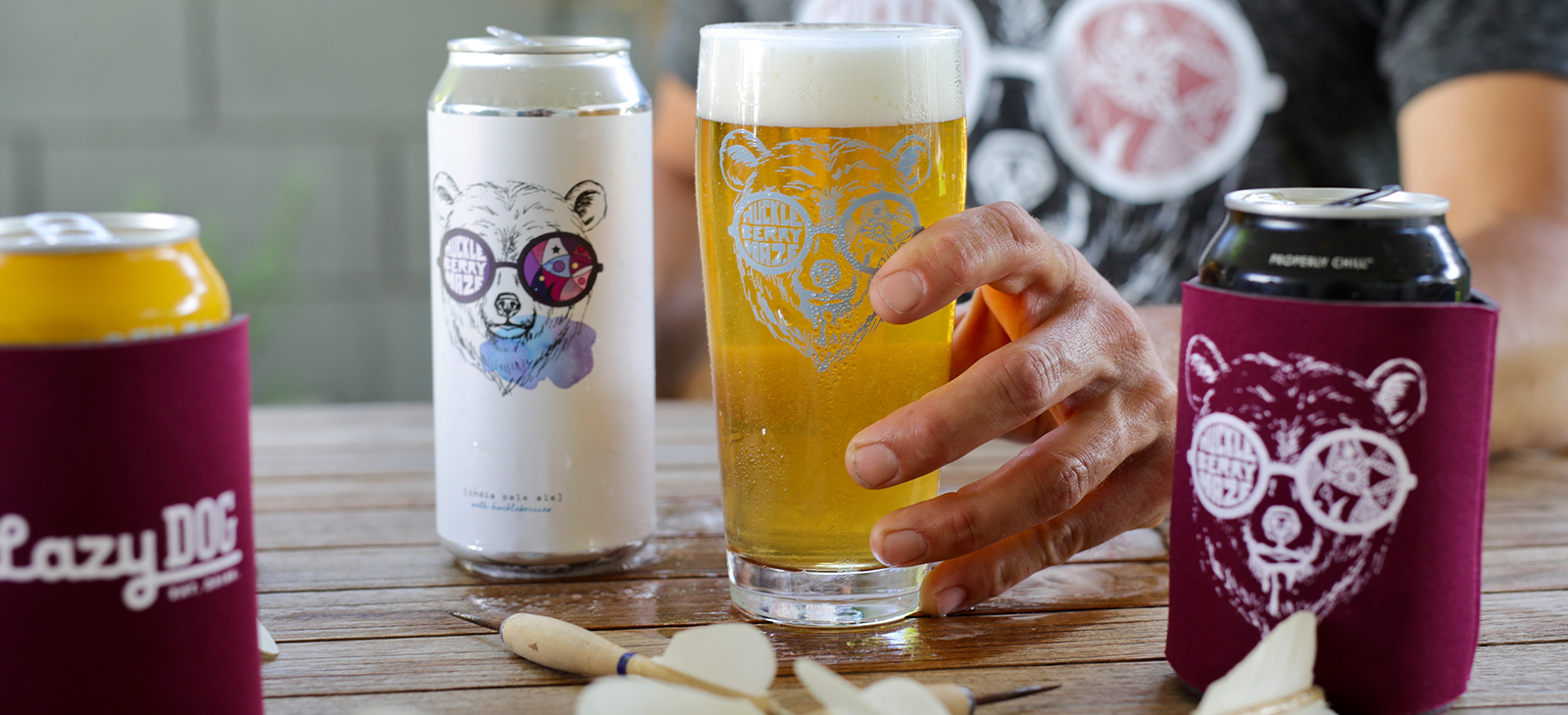 Must be over 21 to enjoy alcohol.
**Terms and Conditions apply