The Fine Art of Mad Science
Introducing Lazy Dog Beer Club's "Mad Science" kit, the 15th installment of themed releases. We asked future brewers of America to create this LD Beer Club quarterly release, and they delivered.
A great kit needs precise and incredible attention to details, not only when it comes to delivering a tasty brew, but when bringing the "Mad Science" theme to life through art. The artwork in our latest release was designed by our talented friend and illustrator, Scotty Reifsnyder. He created a full beer kit full of bright, retro colors while also weaving in bits of symbolic inspiration from each respective school on the label artwork.
To celebrate this unique release, Scotty also designed a limited-edition art print, with scenes depicting the traditional brewing process and the mad science theme (now available for purchase). He shared his artwork with Tim Styles and Harry Lemire, screen printers from Native Screen Print Co., who added vibrant touches to the limited-edition print.
We had to find out more about the imagination and insight behind the art, so we chatted with Scotty, Tim and Harry to learn how they brought their vision to life.
Scotty Reifsnyder, Beer Can Artist Extraordinaire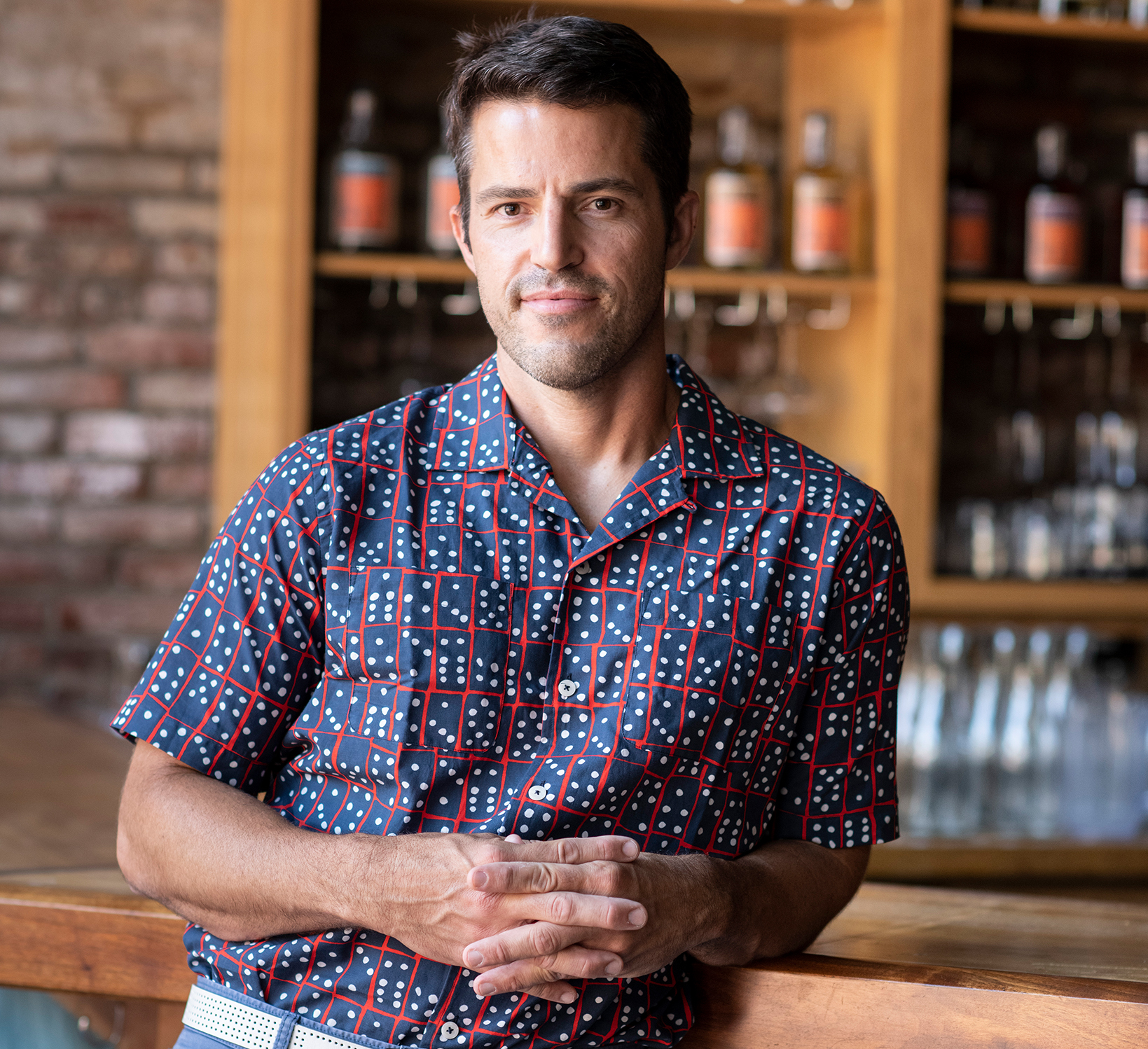 1. Scotty, what inspired you to become an artist?
My parents encouraged me and my siblings to draw from a young age. Steven Spielberg and George Lucas films really got my imagination rolling, since I was raised in the '80s. Cartoons like "G.I. Joe," "Scooby Doo" and "Transformers," and comic book art also offered up a lot of inspiration to motivate me to draw my own stories. There were too many bad lightsaber drawings to mention back in the day! The "E.T."/"Indiana Jones" mashups were something special, though.
2. You had the opportunity to really engage with the students firsthand during this one-of-a-kind process. Anything you want to highlight about the experience?
Every school had a different personality and vibe and all had a lot of passion, which was infectious. I was teaching my own classes during this project, and I was really inspired by the enthusiasm and professionalism of these aspiring brewers. The Zoom conversations I had with the universities always ended up going in very unexpected directions, which made the creative process way more interesting.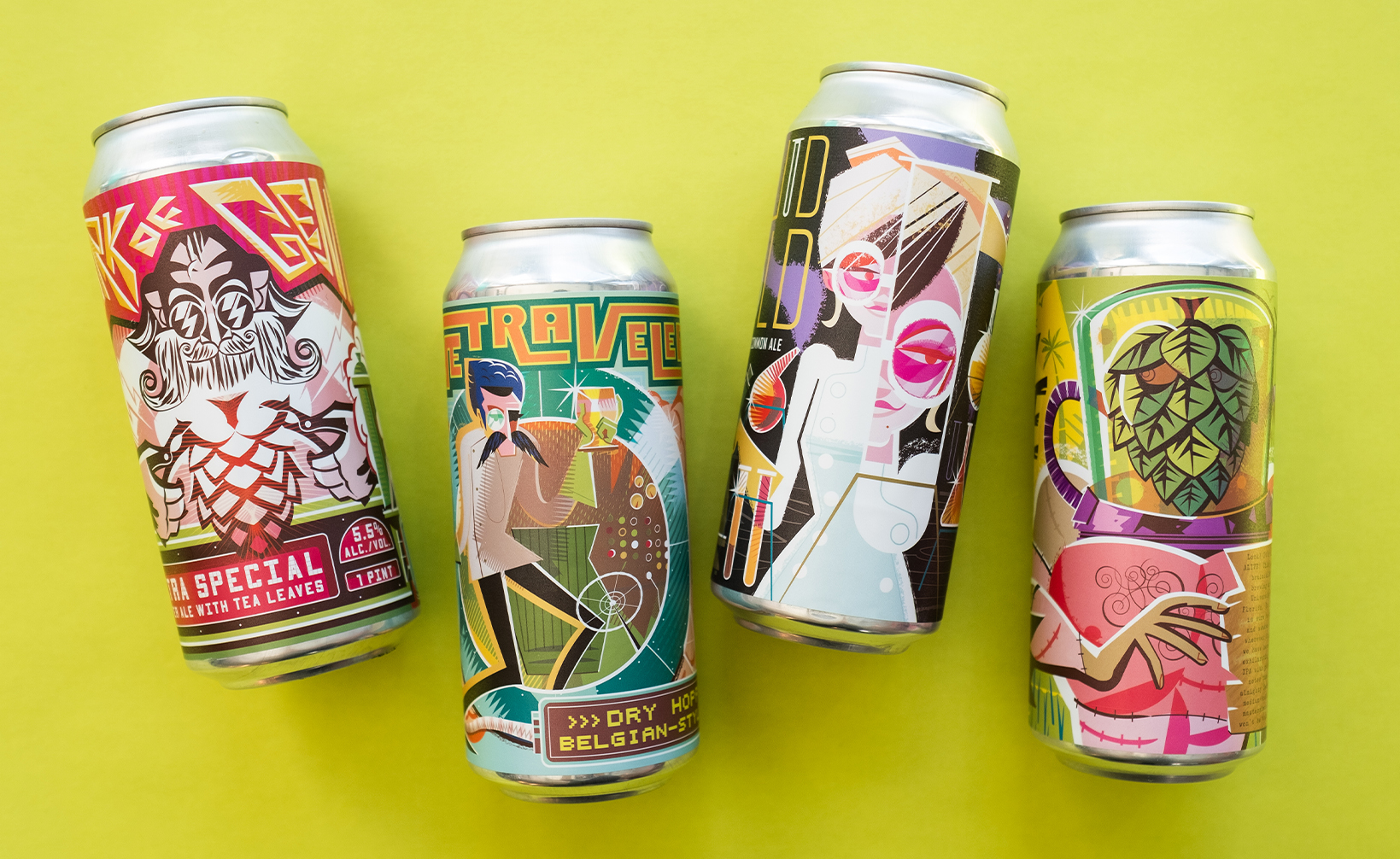 3. How did the students impact your creative process on the design of the cans? What about the limited time collectable print that was inspired by this release?
The students and instructors had a huge influence on the creative direction on the can label designs. Everyone had different ideas and sources of inspiration!
The folks at University of California, Davis, spoke about the Gold Rush in California and how early prospectors brewed beer by campfire, which led to the beer name, Liquid Gold.
The students at Southern Illinois University Carbondale told us how their school is referred to as "Little Egypt,'' and how ancient Egypt was some of history's original brewers of beer. This helped me with the inspiration for Time Traveler.
The class at Colorado State University was really inspired by English scientist James Joule, who studied the nature of heat and created the first law of thermodynamics. Naturally, a mad scientist resembling Joule is on their brew label.
The students at University of South Florida, St. Petersburg, spoke of a super hop called the Zeus hop, which was known for being very unique and having a kick. That helped inspire the direction of the lab experiment that came to life on their label. The limited-time collectible print was inspired by the traditional brewing process and the Mad Science theme.
4. It is so fun to see the "Mad Science" theme come to life in this print. Can you share the story the print is telling?
The central figure — the mad scientist — is our protagonist from the Liquid Gold. Label. She's directing her minions on how to create the most radical and mind-bending brew creation.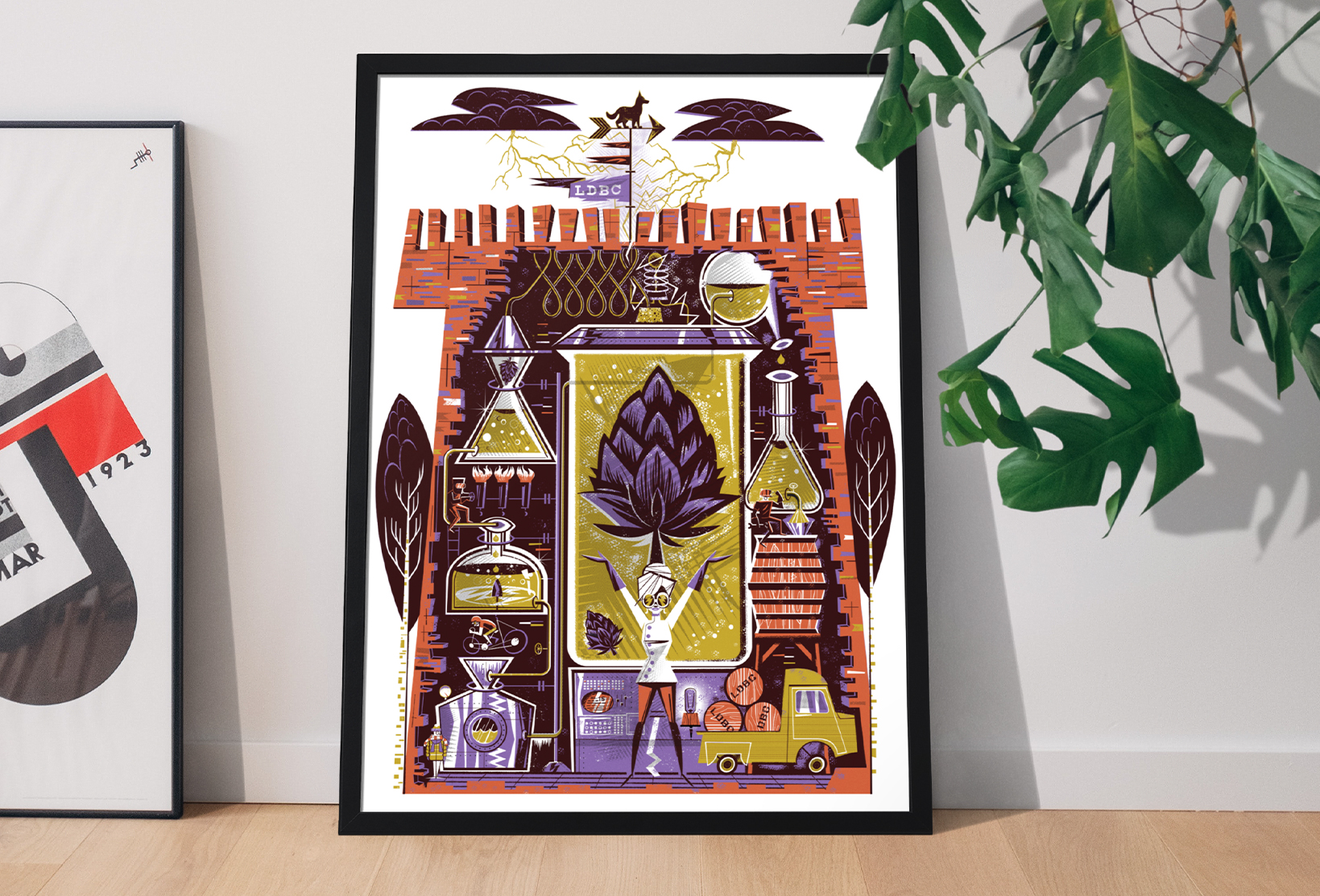 5. Is there something special in this print that someone may not see at first glance?
The 15th release is highlighted on the computer screen behind our heroine mad scientist. Her midcentury-inspired hairstyle is modeled after my wife's "art teacher hair bun."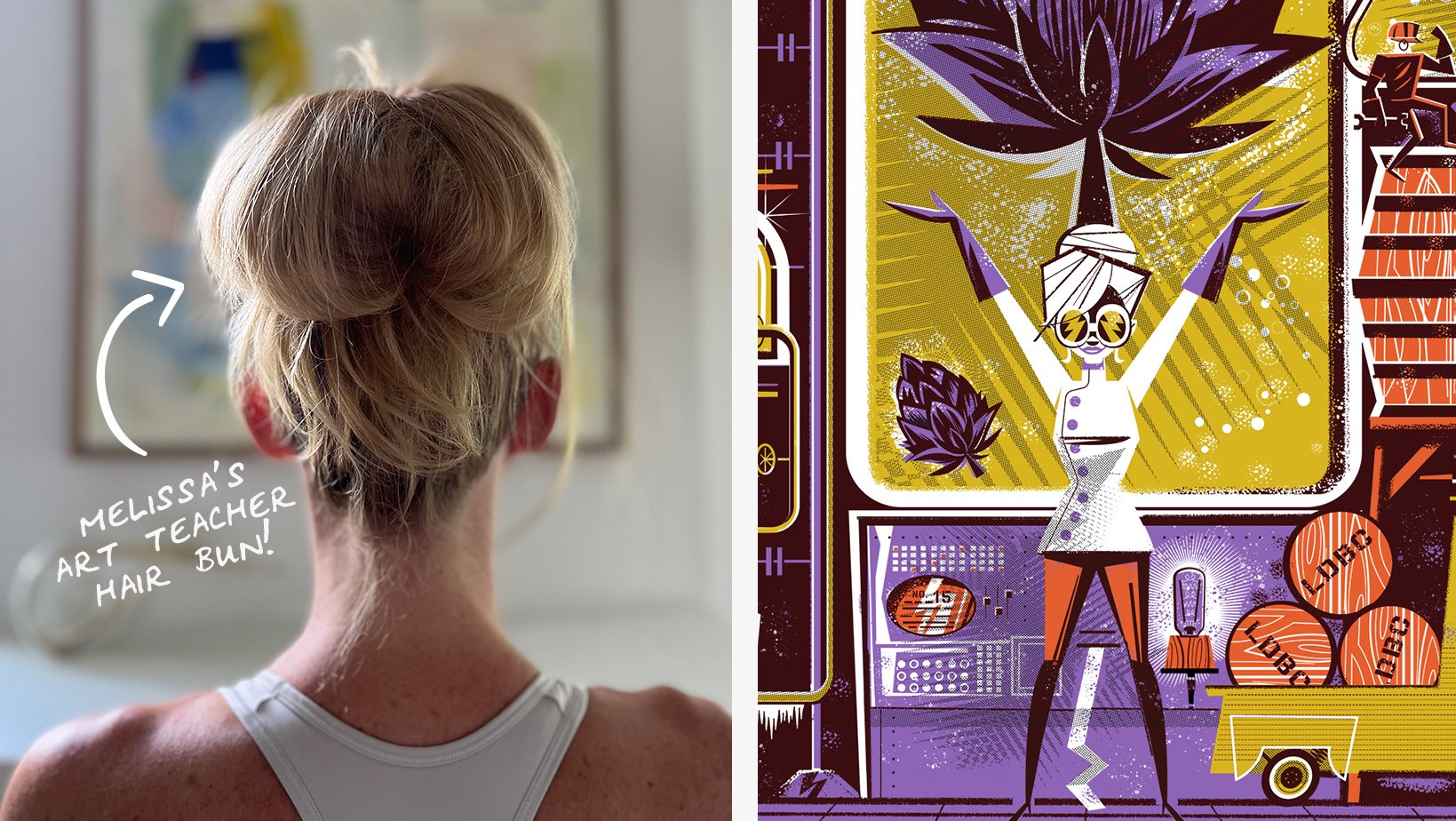 6. Any advice to share for people getting into illustrating and design?
When you're starting out, make passion projects for yourself that you can pour time and energy into. Always set time aside to do what you love and look to various places for artistic inspiration.
7. Which of the beers are you most excited for our members to try?
Probably "It's Alive" as I'm a huge IPA fan but honestly, I can't wait to try all of them!
8. What do you want our members to take away from the can artwork and print?
I wanted to make something fun that looked cool for beer enthusiasts. The printers at Native Print Co. in Orlando really nailed this print job. They say a screen print is only as good as the printer, and these guys do incredible work!
Visionaries Tim Styles and Harry Lemire with Native Screen Print Co.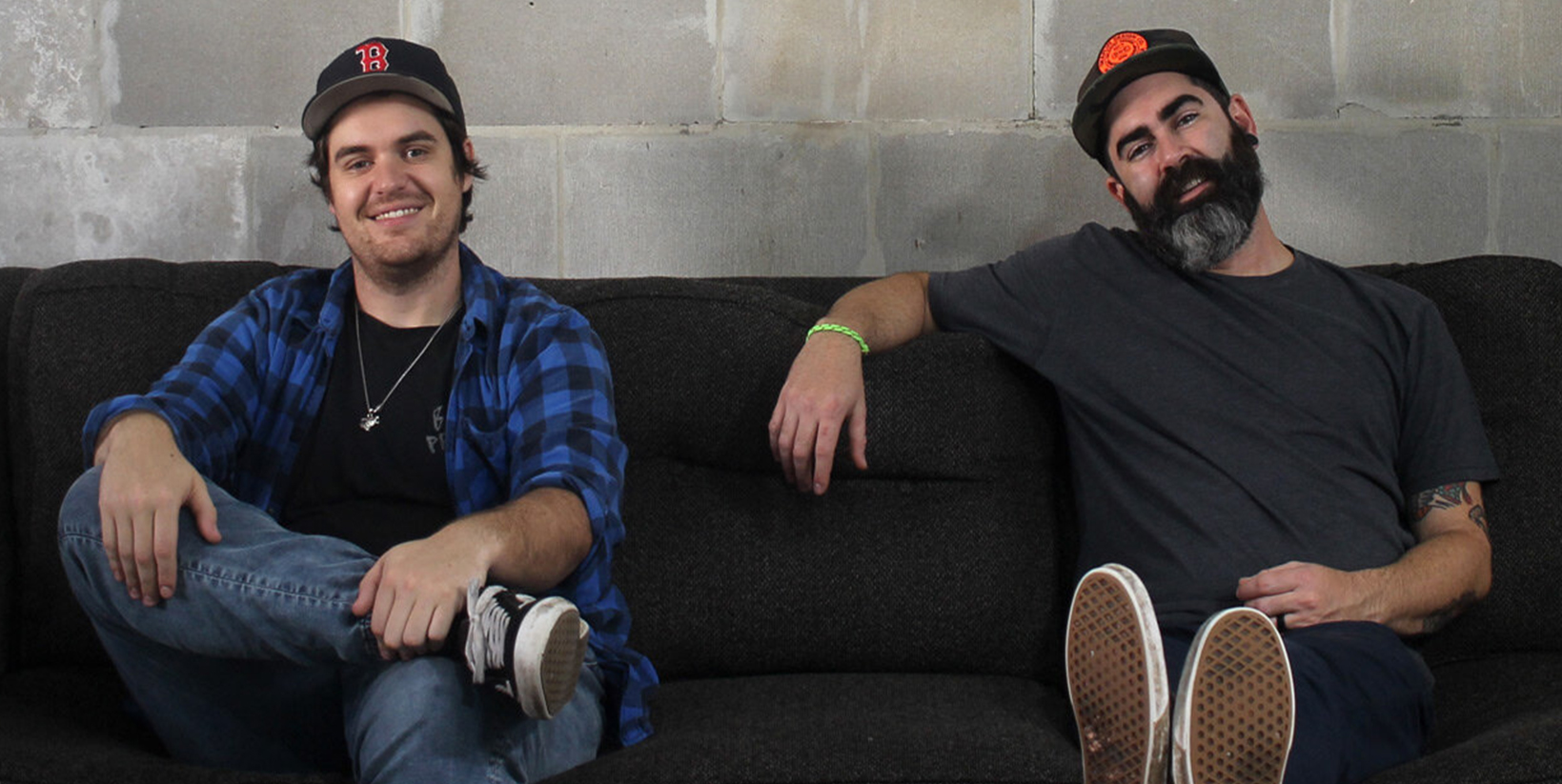 1. Can you tell us more about yourselves and what makes your shop unique?
We're a small shop, and it's just the two of us. We are the people that print the work and see through the project from start to finish. We're just two friends who worked together at a larger print shop for years and had the opportunity to go out and focus on what we loved, which is posters.
2. We hear you do everything by hand at your shop. What was your hands-on process for bringing this print to life?
Everything starts on screen with the artist's work. The file is sent to our amazing prepress wizard in Brooklyn, and he makes everything print-ready. Once it's good to go, we print each layer's film, and get to burning. Each film is laid by hand. It's placed on our exposure unit, where it will be suctioned by vacuum to a glass and burned with a 3,000-watt bulb. After it's done, we remove the film and rinse away the stencil.
While this is going on, Harry is mixing each color, either to a Pantone or to the art on screen, to make sure each color is as spot on as can be. Screens get taped up, placed on press and registered to ensure it's square. Then we add ink and start printing. Each color goes down one at a time, so each layer is printed and racked to dry, until the next color is ready to be printed. Once it's finished, it's put on the cutter, trimmed and then packaged.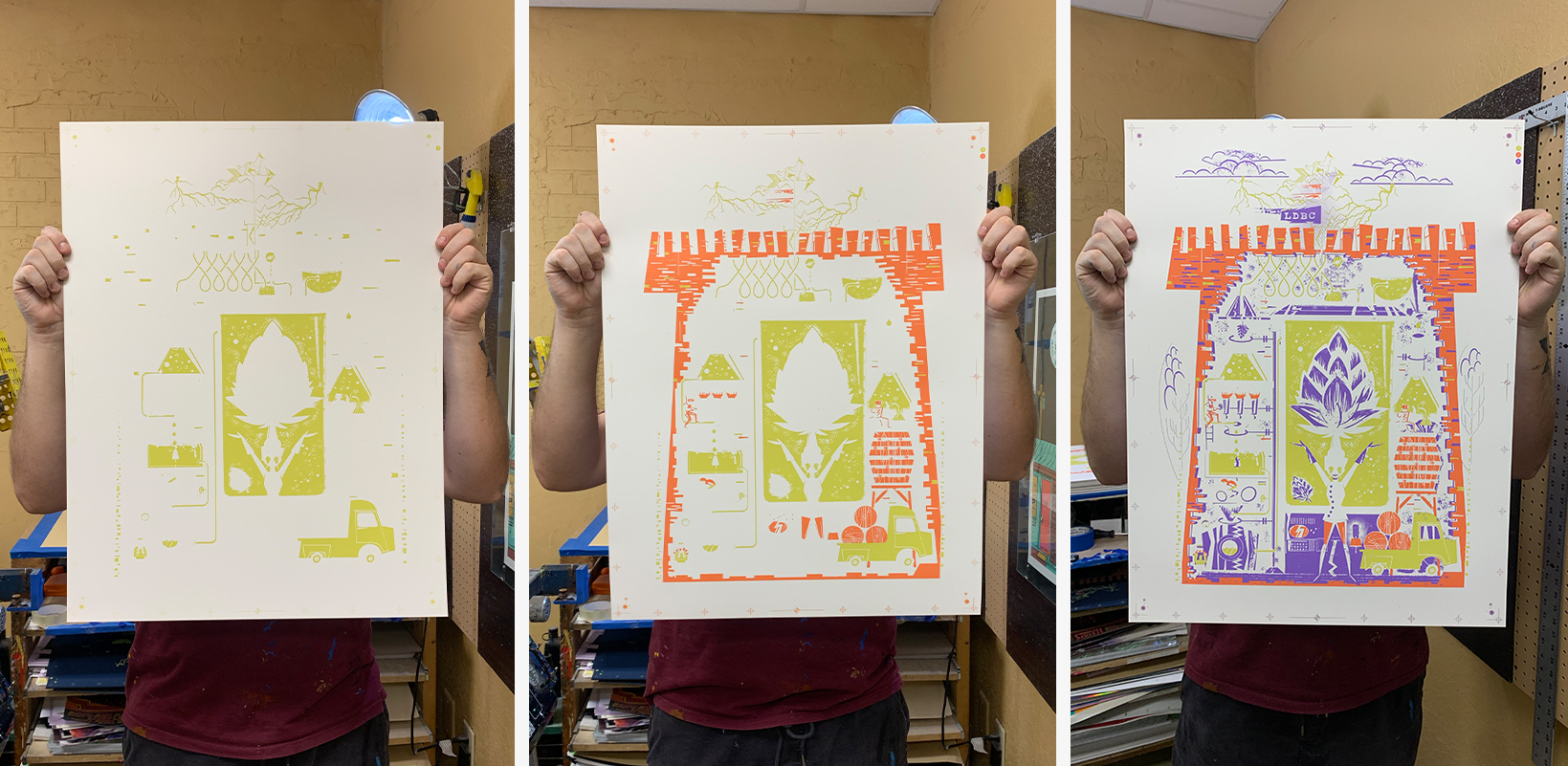 3. What do you love about what you do and how does your love for printing translate to this print?
What we love most is watching posters come to life. Again, we know how hard every artist works and we want to reciprocate that in the printing process. From ink-mixing to screen-burning to printing, it's all fun for us. We hope our love of ink and paper comes across in the posters. Dialing in the colors for Scotty was a fun challenge, and making sure the right paper was used to make sure it all complemented each other was a really fun part of this poster. Also, Lazy Dog Beer Club's love for beer is like our love for print. It's always rad to work with passionate clients.
4. What are some important things our members should know about this print?
Enjoy it! We loved printing it, Scotty loved designing it, and Lazy Dog loved bringing you the beer it goes with. The color-by-color process is a lot like the beer-making process, and we hope you can see and taste the passion in both!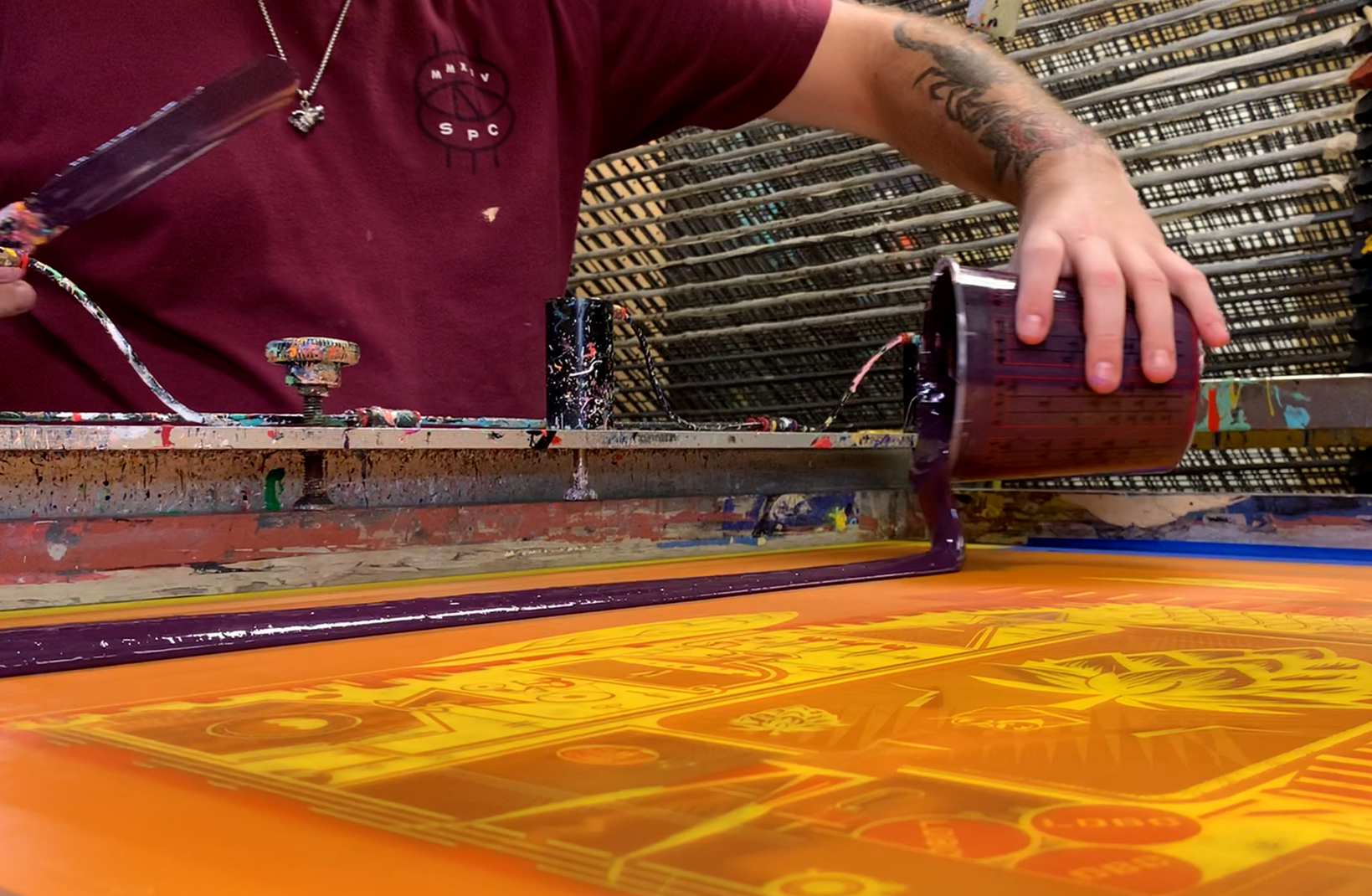 Want to get your hands on this piece of rad art? For only $45 it can be yours. Visit our store to order one today.
Many of our fans know about Lazy Dog Beer Club, but for those of you who may not have had a sip of the tasty brews that come to life in our kits, let us break it down for you.
Lazy Dog Beer Club is a quarterly membership subscription created by beer lovers. Once you sign up, you receive a first beer kit, which includes Lazy Dog Restaurant house beer and a first kit glass. Members will then receive a themed beer kit for each additional quarter in which they are an active member, plus additional perks such as draft beer upgrades, monthly draft samplers in restaurant, 10% off takeout orders, beer-to-go discounts, priority seating when there's a wait at the restaurant and more. For more information, visit LDBeerClub.com.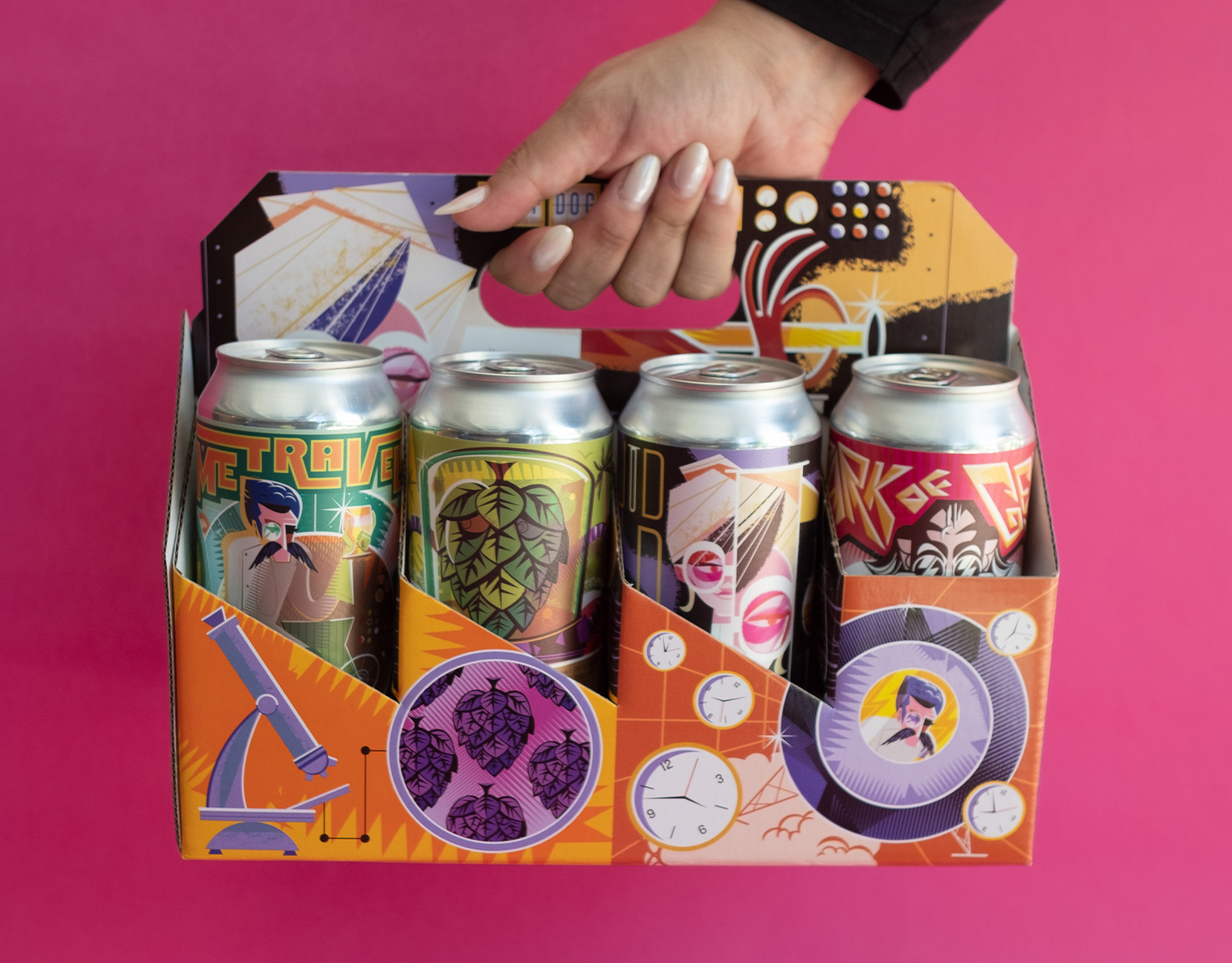 Disclaimer: Availability may vary by location. Must be 21 or older.