The Secret is in the Sauce
Whether you're a fan of our tangy and sweet BBQ Sauce or our IPA Mustard Sauce with whole-grain mustard infused with our Liquid Blanket® IPA, our made-from-scratch, mouthwatering additions add so much flavor to our dishes.
We sat down with Jeremy Gomez, a teammate at our Torrance location, to take a closer look at one of the most important roles in the kitchen: the saucier. As the saucier in Torrance, Jeremy is a pro in creating the sauces that you're so fond of at Lazy Dog and is an important component in raising our dishes to new flavorful heights.
Jeremy has years of experience and a deep passion for his craft, making him a true master. He shared more about his world in the kitchen, sources of inspiration and some can't-miss recommendations for the next time you dine with us.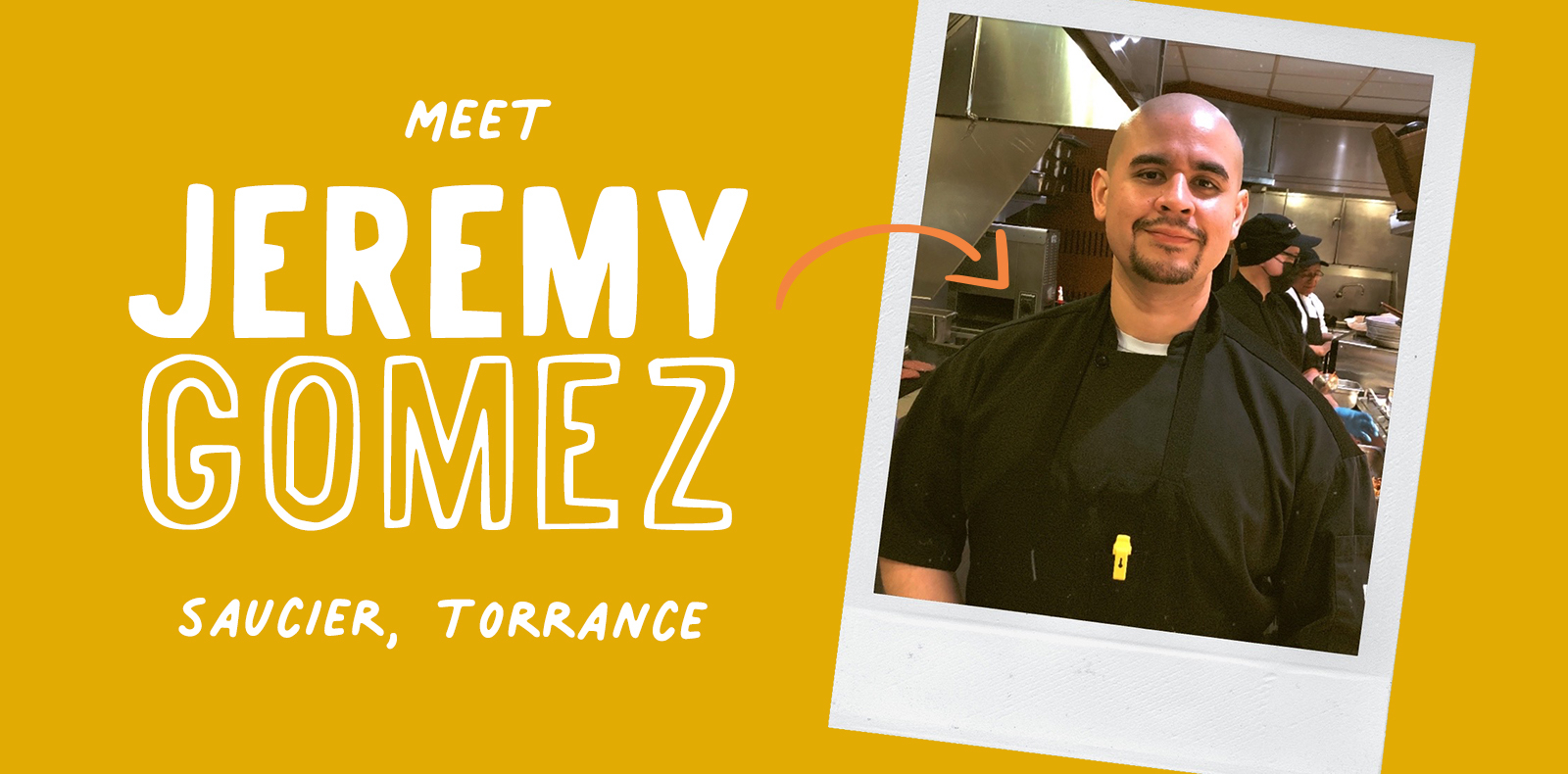 1. Jeremy, tell us about yourself. How did your journey at Lazy Dog Restaurant begin, and how did you take on the role as a saucier?
I grew up in Los Angeles and have always had an appreciation for food. When I was a little kid, I knew I wanted to be involved in the food industry. When I saw the open saucier position at Lazy Dog Restaurant, I knew it was perfect for me. I couldn't wait to be hands-on with food, work in a large kitchen with teammates, and try some tasty sauces and foods to pair with them!
I started in the role in 2019. I was fortunate to train alongside a great saucier on my team to get me up to speed on the Lazy Dog way. I've been at Lazy Dog ever since and love coming into work every day.
2. Walk us through your typical day at Lazy Dog Restaurant.
When I get into work, I grab the prep list and head into the walk-in fridge to see what we will need for the day. I'm always making sure we use fresh, high-quality ingredients when preparing all the recipes. I handcraft all the sauces in our kitchen, including our sauce toppings, soups and dressings.
3. Who has been the best mentor at work for you so far and why?
My general manager, Samantha, has been very helpful and hands-on from day one. When I first started, she made sure I was trained well so I could be the best in my job. She is very motivating and supportive and always brings out the best in me. She is amazing at lifting my spirit, as well as everyone else in the kitchen.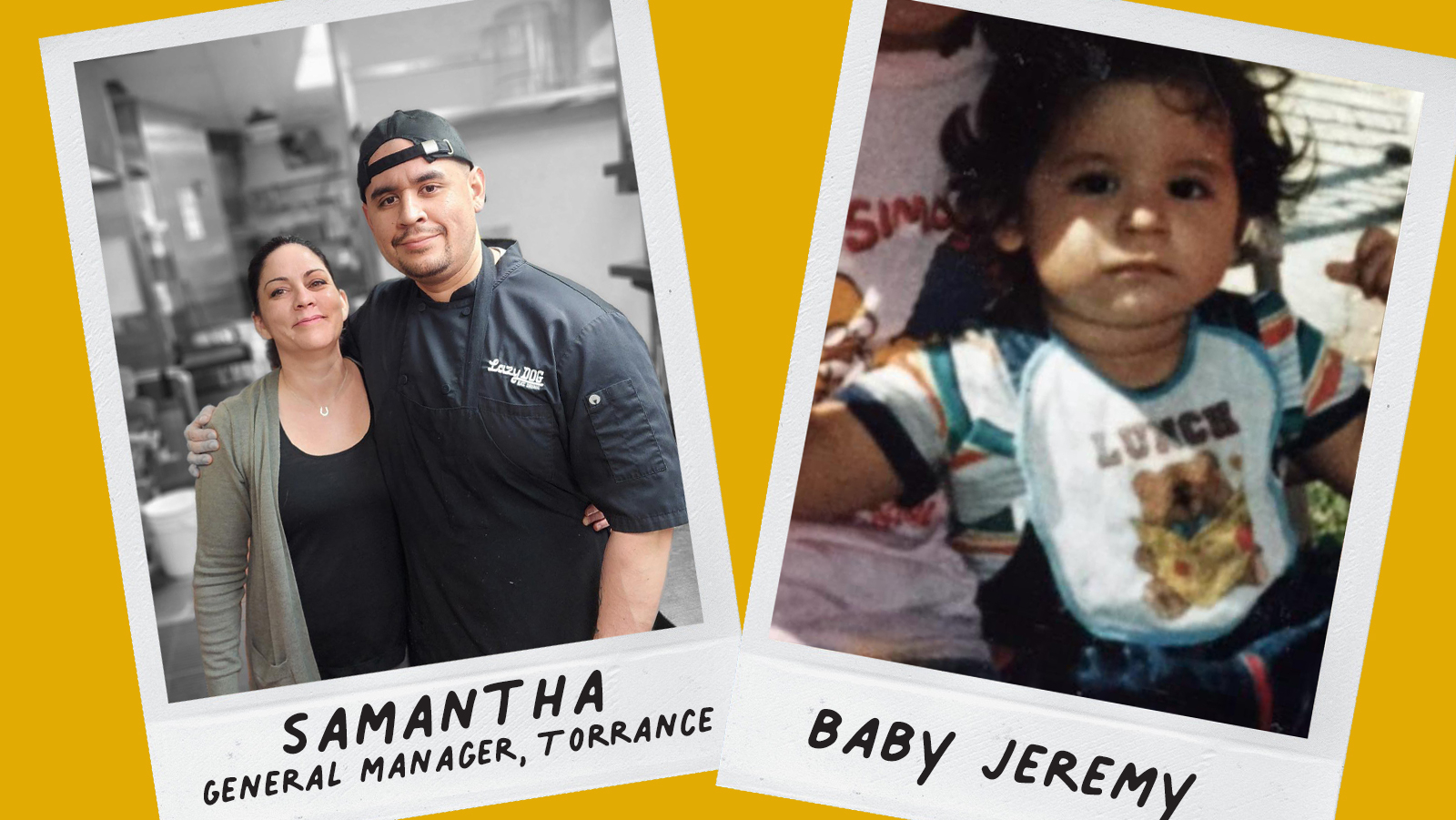 4. What is your favorite thing about working at Lazy Dog?
I love food, so it's great to be around it all day and to make our sauces from scratch! There's also a lot of teamwork at Lazy Dog, and there's always someone there to give you a hand when you need it.
5. What is the best advice you've ever been given at work?
Someone once told me to always be aware of everything going on in the kitchen. We all work together to create tasty dishes and deliver great hospitality, so it's important to see how each position works with the others to deliver that amazing dish and guest experience.
I've taken this advice and have passed it along to others who work in the kitchen with me. It's important to learn as much as possible from your other teammates to see how everything comes together and grow your role in the kitchen and in your career.
6. Which sauce is your favorite one to make? What's your favorite Lazy Dog dish to put it on?
I'm a big pasta guy, so I'm going with the chardonnay cream sauce! The Fettuccine Alfredo is my favorite Lazy Dog dish to put it on. Don't forget to add the shrimp!
7. Any tips for a guest coming through our doors and experiencing our sauces for the first time?
Our sauces are very flavorful and fresh, so you've just got to try them! These dishes really highlight our sauces: Grilled Lemon Chicken with our citrus cream sauce, Campfire Pot Roast with our housemade red wine sauce and Chicken Parmesan with marinara sauce.
When guests dine with us, our teammates will also introduce them to four of our handcrafted sauces for them to try out right at their table:
Our Hot Sauce is made with ripened jalapeños blended with vinegar and garlic

Our BBQ Sauce is tangy with a sweet molasses backbone

Our Citrus Soy Sauce is a lower sodium soy sauce infused with fresh citrus juices

Our IPA Mustard with whole-grain mustard is infused with our own Liquid Blanket® IPA
One of the great things about our sauces being offered at the table is that they offer endless possibilities when it comes to pairing them with a dish. You can get creative and experiment with new combinations. However, I do have some favorite pairings …

8. Anything to add?
For those considering a career as a saucier, come into with an open mind and a willingness to learn. It's very rewarding work!
The next time you dine with us, be sure to take a moment to appreciate our flavor-enhancing condiments. Whether you're a foodie, or just looking to try something new, tasting our different sauces can add excitement and flavor to your favorite Lazy Dog meal!