I recently told you about our new Atlanta location opening in 2019, so I thought it'd be fun to share with you a little DIY recipe that truly offers a taste of the south: Peaches & Moonshine!
Don't worry, you don't have to have your own moonshine still in your backyard to make this drink. If you do have one, it's probably time to re-evaluate some of your life choices.
Now then, on to the recipe!
Peaches & Moonshine
Recipe serves: 1
You will need:
2.5 fl oz Peach Marmalade (you can buy at your local store or find a recipe online)
1.5 fl oz Moonshine (our favorite is Stillhouse, but any will do)
1.5 fl oz Soda Water
3-4 mint leaves, torn
Steps:
Add all ingredients into shaker with ice. Swirl to incorporate completely.
Pour into a mason jar and serve.
And, because I know how much you love dropping knowledge on friends and family, here are some fun facts about moonshine you're welcome to share!
Ever wonder what XXX on a jug of moonshine means? It means that the moonshine inside has been run through a still three times, so it's basically pure alcohol!
Mountain Dew was originally a slang-term used for moonshine.
NASCAR has its roots thanks to moonshine. People used to soup up their cars to outrun cops after making a moonshine drop-off. Eventually, they started racing those cars on a track, and the rest is history.
Sources: Flask.com
Words by Colin Liotta
Video by Tyler Jacobs
Questions? Comments? Email: [email protected]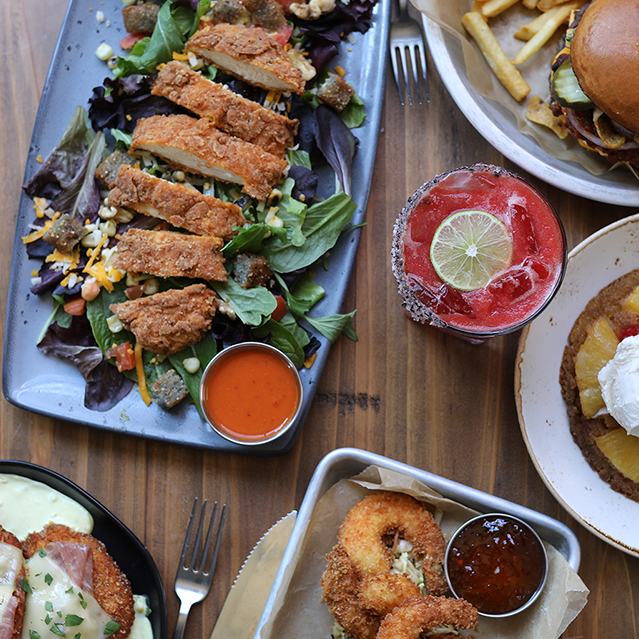 Our New Spring Menu is Here
February 21st