Behind-the-Scenes: Sun Spanked Beer Video
Coming up with a beer logo is never an easy task.
Creating an animated beer video that captures the spirit of both the beer and the logo? Now that's the fun part!
While some may think our creative content is outsourced to an agency or large team of talented designers, there's actually only two people responsible for our in-house creative: Creative Director, Rebecca Simms and Digital Content Producer, Tyler Jacobs.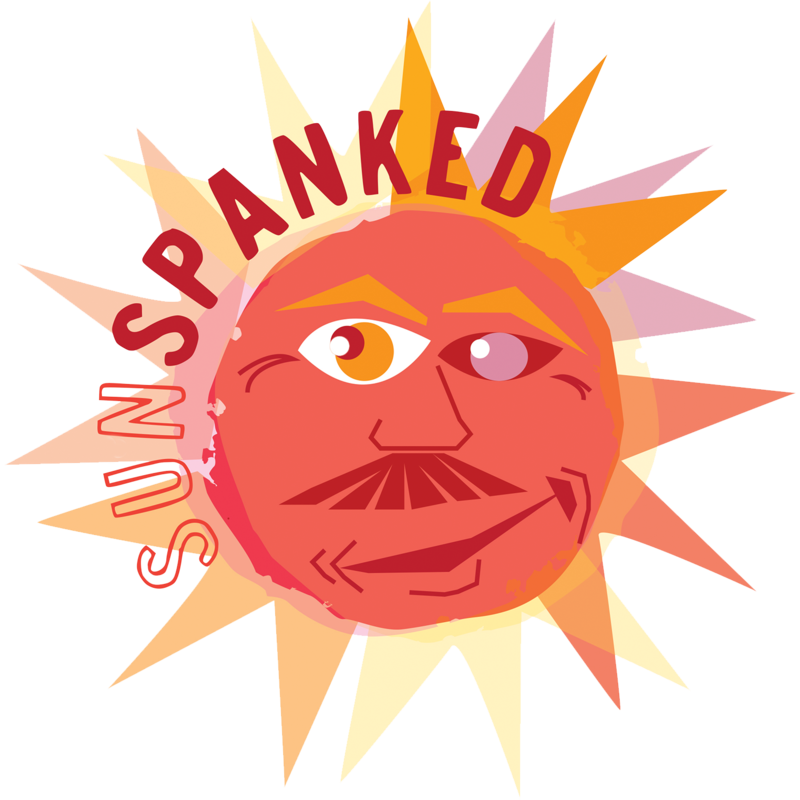 I recently had the opportunity to sit down and talk to Tyler about the animated video he created for our Lazy Dog Sun Spanked Red and learned a thing or two about his inspiration and process. Enjoy!
[Disclaimer: I may or may not be enjoying an ice cold beer during this interview.]
Colin: When you saw the final design for our beloved Mr. Sun, how did you go about determining an animation style?
TJ: My first impression of Rebecca's rendition of the sun was that he was drawn with a lot of overlapping colors and textures in this interesting collage art style. He wasn't "cute" but a little weird. It brought to my mind abstract art from the 50s and early 60s. It made me think of jazz record covers and animated shorts like "Toot Whistle Plunk and Boom" or "The Flintstones" with the charcoal textured backgrounds. It just felt right to follow that influence with the rest of the animation.
C: The Flintstones! Yes! And I love the dude in sunglasses that Mr. Sun spanks! I heard you illustrated six different directions at first. How did you pick the final look?
TJ: With each of version of the "sun spanked dude," I was exploring a basic geometrical shape – rectangle, circle, oval, etc. After several different explorations of shapes, I tried making the character in a short, squat, barrel shape, and I really liked how it turned out. Another one of my inspirations on this was the old Hawaiian Punch commercials from the 60s where our hero, "Punchy" would punch this cranky tourist with an uppercut and it was somehow endearing. So, I guess the influence can be seen in both story and art style! By the time I got to the sixth iteration, the dude actually looked like he could fit in their world. That's when we knew we had found what we were looking for.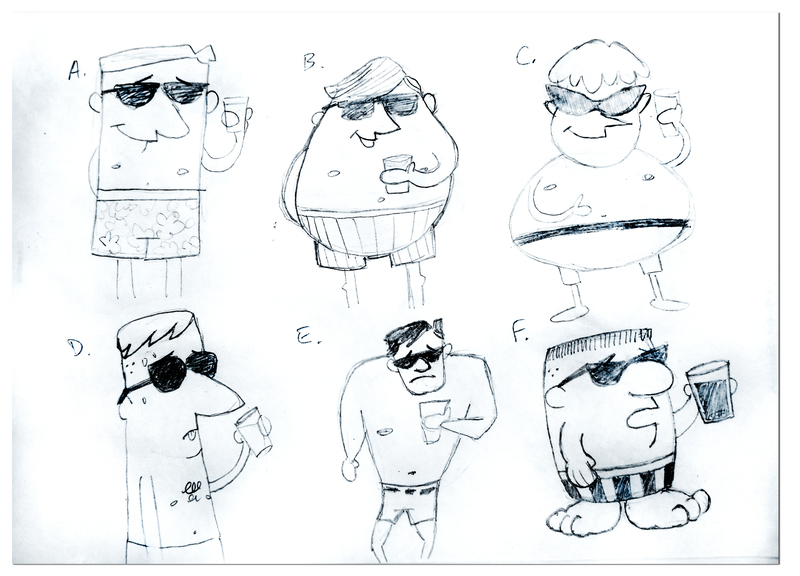 C: What was the biggest challenge when it came to creating a video that captured the personality of Mr. Sun?
TJ: Well, the sun has this kind of mischievous quality to him (maybe it's the mustache?) but he's also eccentric and friendly. So, I wanted to make sure that he sort of sneaks up on the man and :spanks" him without it being mean-spirited.
C: Totally! I think you definitely nailed it. The dude is almost happy about getting spanked in the end! Ok, so tell us how you chose the music you used in the video?
TJ: Keeping with the mid-century theme, I wanted something light and breezy, but also upbeat and fun. So, I looked for something with a tropically vibe. I used to listen to a Japanese DJ back in the late 90s / early 2000s by the name of Fantastic Plastic Machine, who would match these breezy, jazzy Bossa nova from the 60s with electronic house beats. It was really fun stuff and I wanted to find something like that. If I could have licensed one of his songs, I totally would have! But I think I got pretty close and I'm really happy with how it turned out.
C: Yeah! I think it's awesome! So, can we look forward to other video adventures with Mr. Sun and the sun spanked dude?
TJ: Ha! You never know. Summer is about over now, but I'm sure Mr. Sun and his friend will run into each other again somewhere down the road!
C: It was great talking with you Tyler. Looking forward to seeing what other videos you come up with!
TJ: Thanks for talking with me! I've got a lot of other great ideas and animation styles I'm dying to try out, so good things are definitely in store!
For those of you wondering, Tyler is indeed as cool as he sounds, and he has an incredible beard to boot, so you know he is both talented and trustworthy. Keep a lookout for more great videos from Tyler down the road. In the meantime, here is some info on our Sun Spanked Red since I'm sure you are just dying to try it now!
NAME: Sun Spanked Red
STYLE: Irish-style red ale
ABV: 5.3%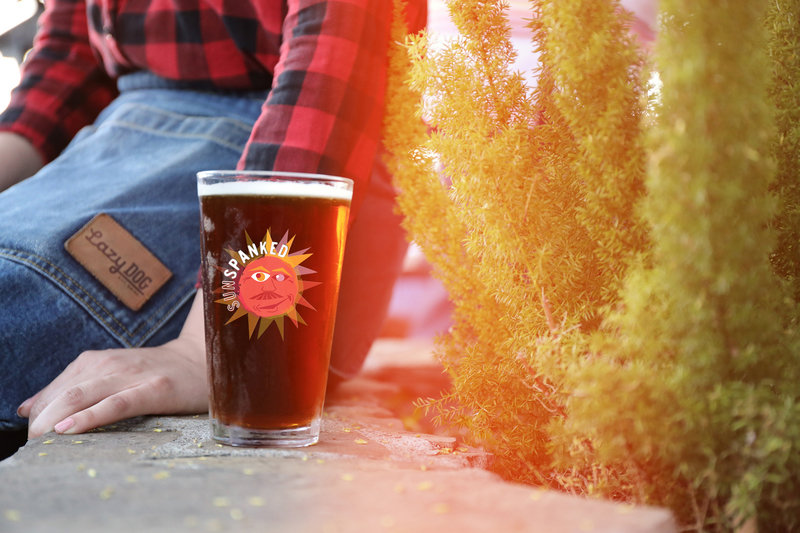 *Available on tap at all Lazy Dog locations. See a list of locations near you.
Words by Colin Liotta
Logo design by Rebecca Simms
Video & Animation by Tyler Jacobs
Questions? Comments? Email: [email protected]