RECIPE: Meyer Lemon Margarita
Did you know that every February 22, tequila hounds, margarita lovers and probably a majority of your "fun friends" come together for one reason and one reason only? Today is National Margarita Day people, today we gather to pay homage to one of life's greatest gifts, a personal favorite and all around fantastic celebratory cocktail – the magnificent margarita.
Mixed in every quality margarita is a pour of smooth tequila, we recently ventured down to Mexico to experience how it's made. If you haven't read about our trip yet, be sure to check it out before you take a sip! We created our recipe using Lunazul Tequila which is grown, distilled and bottled at Tierra de Agaves.
This recipe can be doubled, quadrupled, etc., that all depends if you're trying to fiesta like there's no mañana. For the best margaritas, we suggest using the highest quality, simple ingredients you can get your hands on. Try to stay away from the premade mixes, trust us you can taste the difference. We've included our housemade sweet + sour mix for those who want to take your margaritas to the next level. Mix, shake, pour and enjoy, Salud!
Meyer Lemon Margarita:
Recipe serves 1 (we recommend quadrupling to make a pitcher for you and your buds)

You will need:
Salt for the rim of your glass (optional)
1.5 oz Lunazul Reposado Tequila
0.5 oz triple sec
1.5 oz sweet & sour mix
1.0 oz yuzu juice
cilantro sprigs
Steps:
Rim glass with lime juice and roll in salt.
Mix sweet & sour and yuzu juice together.
Add tequila, triple sec, sweet & sour mix, yuzu juice into a large shaker. Shake away!
Add ice and shake at least 10 times to incorporate all ingredients
Pour mixture into a glass, try not to wash away the salt rim. If desired, add ice.
Garnish with a cilantro sprig.
Housemade Sweet + Sour Mix:
Makes 6oz of mix

You will need:
1.25 oz agave nectar
1.5 oz freshly squeezed lime juice
1.5 oz freshly squeezed lemon juice
1.75 oz of water
Steps:
Mix all ingredients for 3 minutes, this is important to avoid separation.
Transfer into an empty jar and store in fridge until you're ready to use.
--------
Share your creations by tagging us on IG @lazydogresturants and using the #ldtable hashtag.
P.S. Our Meyer Lemon Margarita is available for a limited time at all Lazy Dog Restaurants.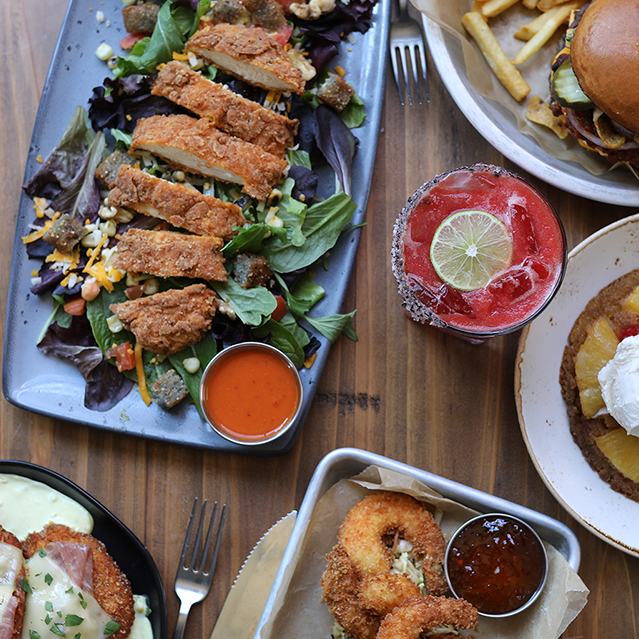 Our New Spring Menu is Here
February 21st